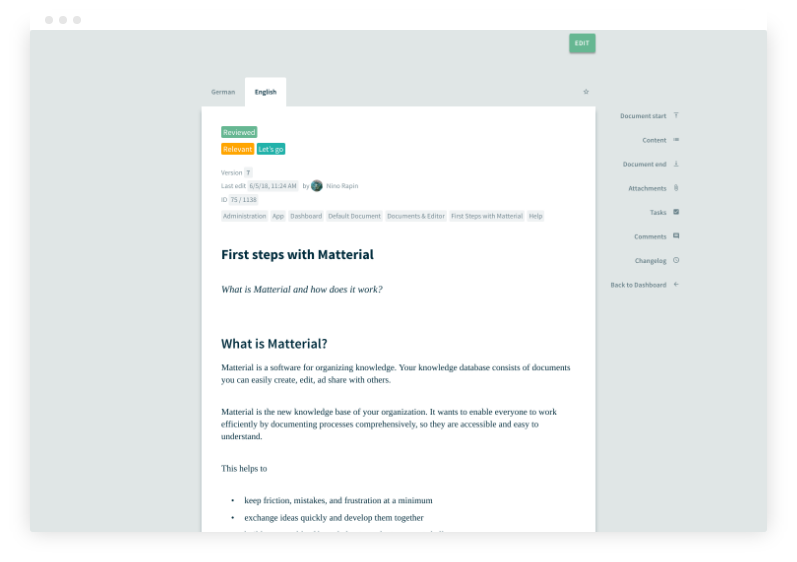 How Matterial works
Knowledge management reimagined
Small and large companies, co-ops, NGOs, and customer service center build their knowledge culture with Matterial. We believe great software should earn you money and save resources.
Record & organize knowledge
Structured documents
Matterial consists of documents structure your knowledge. They stay comprehensible and manageable, even when your content gets complex.
Fast, simple editor
A lightweight, clear editor makes recording knowledge easy, fast, and sustainable — so nothing important gets lost.
Transparente structures & communication
Documents are clearly assigned, discussed, reviewed and shared in as many languages as you need. Comments and tasks make sure, your communication and back channel are efficient.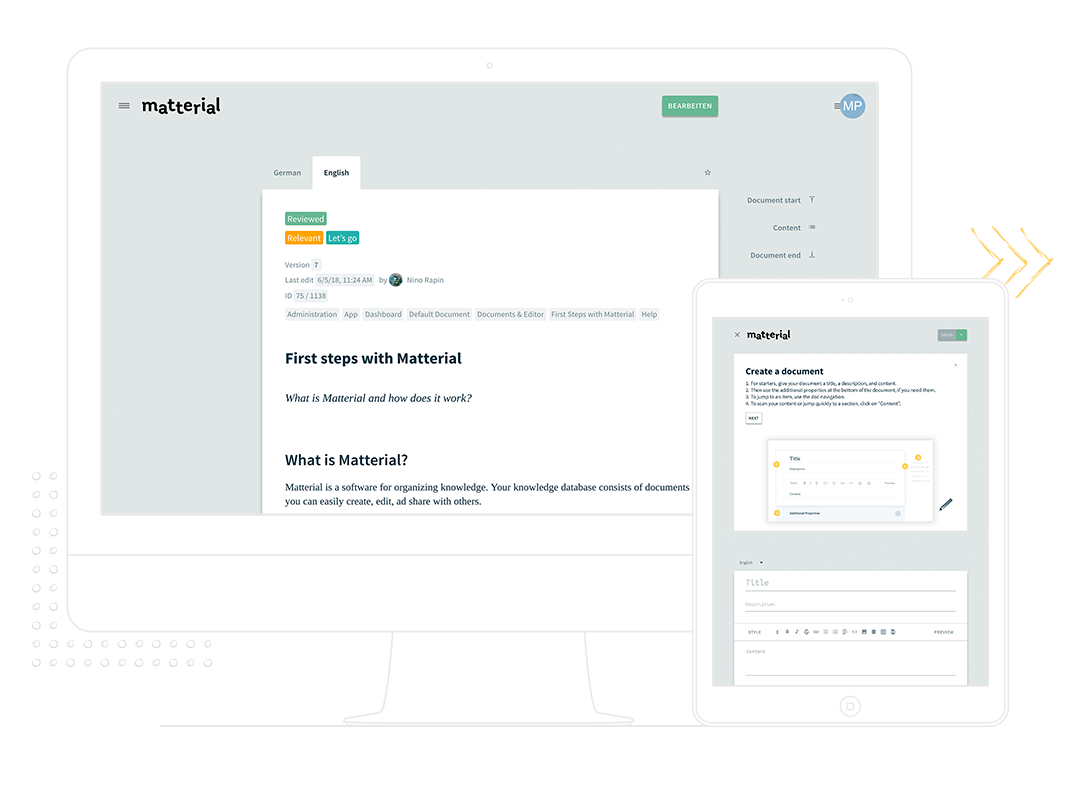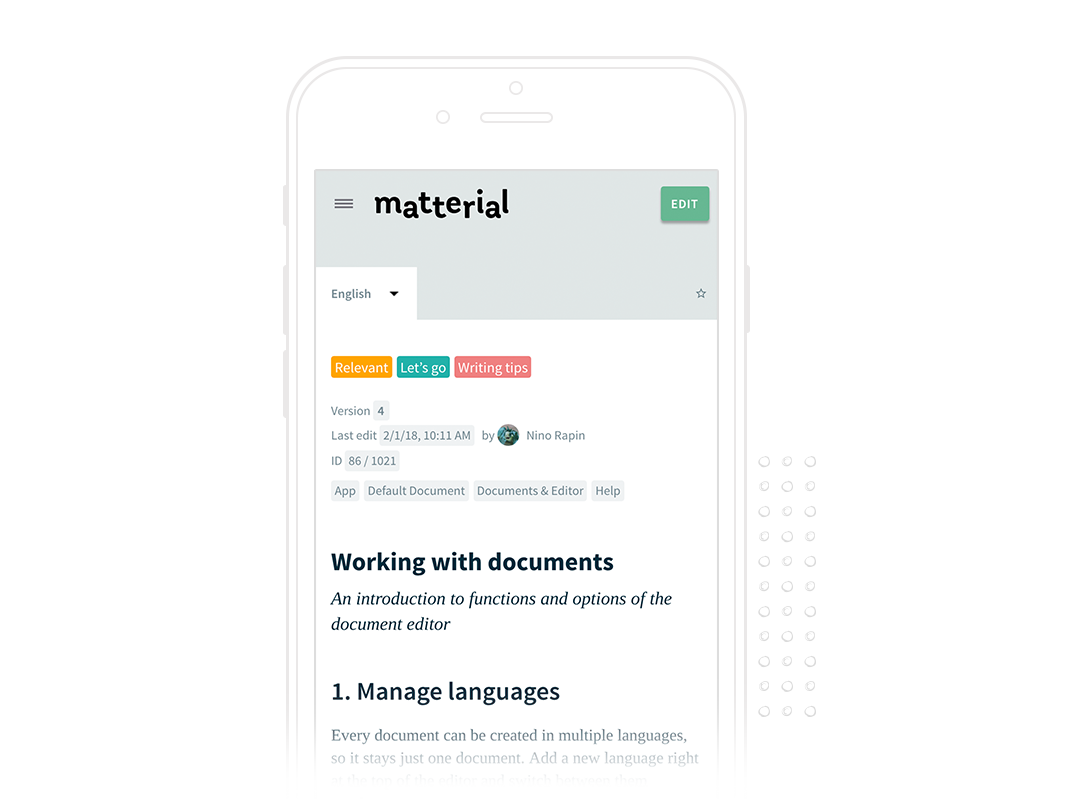 Find, share, and use knowledge
Find faster than you search
Instead of clicking through folders, you'll find the right information fast, supported by intelligent suggestions, filters, and categories.
Give 'em what they need
Not everything is important for everyone. Matterial makes permissions and rights simple to manage, so it's obvious who is able to do what at all times.
Never lose an idea
Flashes of insight come in the strangest places, when we are busy doing something else. With the flash button, they can be recorded anytime, anywhere, from any device.
How
modern

knowledge management

works

Content Management
Use our API to publish content directly to your website, from your knowledge base. You groom and maintain it centralized and display selected content publicly.

Knowledge Flash
Knowledge hides in the most improbable places and sometimes you don't have time to record it properly. So just take a photo, a voice memo or a note in Matterial and flesh it out later.

Single Sign-On
Matterial is part of your work structure, your systems and tools. Sign in once, be logged in everywhere.

Runs anywhere
As a web software, Matterial works on your laptop, your smartphone, in the office, on Kilimanjaro. We're working on a mobile app right now, too.

Notifications
Notifications are your back channel to everyone involved, so everyone knows when there's something new, when something changed, and why.

Multi-language
No communication breakdowns: documents in different languages are treated and managed as one unit.

Markdown
Our editor runs on markdown — the fastest way to write and stay with the idea. The data format is reduced to the essence, so it'll still be useable in decades.

Comments
Communication is King. Comments keep relevant persons in the loop and collaborating, elaborating on knowledge and keeping it alive.

Tasks
With tasks, you can request new knowledge from the right people or groups, and add what's been missing.

Rights & user management
No hassle when deciding who should have access to which documents — no one is overwhelmed, everyone has the information they need.

Review
Built-in review mechanisms help you keep knowledge up-to-date, rlevant, and correct — be it process instructions or ISO docs.

Attachments
Attach as many files in as many formats as you like, to collect everything that's useful for the contect of a doc. The attachments' content is also parsed by search.